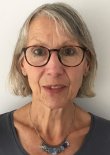 I have been working with beads for an extraordinary number of years! I started by selling loose Indian beads, supplied by the kilo, wrapped and despatched from a bedroom. This wasn't very fulfilling so I learnt to make jewellery using the beads. I now design and make jewellery with a range of beads either selfmade, commissioned or sourced from interesting suppliers worldwide. My jewellery is sold in shops and galleries throughout Britain. I also take part in exhibitions and sell my work at a selection of craft fairs and music festivals.

I have written many books on bead jewellery making, the most recent, co-authored with Xuella Arnold, is Compendium of Jewellery Making Techniques. Other recent titles are The Encyclopedia of Beading Techniques and The Encyclopedia of Wire Jewellery Techniques.

I teach bead making and bead jewellery making in arts centres around England, and, as a complete contrast, for some of the smaller cruise ships.

Another related interest is the Arkell bead collection in the Pitt Rivers Museum, University of Oxford which I spoke about at the Istanbul International Bead & Beadwork Conference in November 2007.

Some of my designs are available through the website, so do visit the shopping page.